Halloween mit Titan Books: Bei dem Londoner Verlag erscheinen herausragende Fantasy- und Horror-Romane. Da Halloween quasi vor der Tür stedht und ich schon vollkommen im Kürbisfieber bin, möchte ich Ihnen heute einige meiner Favoriten vorstellen: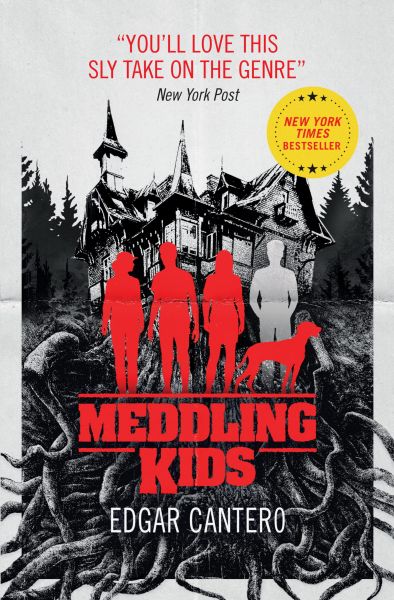 Es und Sranger Things lässt grüßen: Um der Wahrheit auf die Spur zu kommen, müssen sich die vier mittlerweile entfremdeten Freunde noch einmal gemeinsam ihrer Vergangenheit stellen.
A nostalgic celebration of horror, friendship and many-tentacled, interdimensional demon spawn. In 1977 the Blyton Summer Detective Club unmasked the elusive Sleepy Lake monster—another low-life fortune hunter who would have gotten away with it too, if it weren't for those meddling kids. By 1990 the former detectives are haunted by strange, half-remembered events that cannot be explained by a guy in a mask. Andy, the once-intrepid tomboy now wanted in two states, wants answers. To find them she will need Kerri, the former kid genius now drinking her ghosts away in New York with Tim, an excitable Weimaraner descended from the original canine member of the club. They will also have to get Nate, the horror nerd currently residing in an asylum. Luckily Nate has not lost contact with Peter, the handsome jock turned movie star who was once their leader… which is remarkable, considering Peter has been dead for years.The time has come to get the team back together and find out what actually happened all those years ago. It's their only chance to end the nightmares and, perhaps, save the world.
Erscheinungsdatum: 03.04.2018 - Verlag: Titan Books - Seitenzahl: 464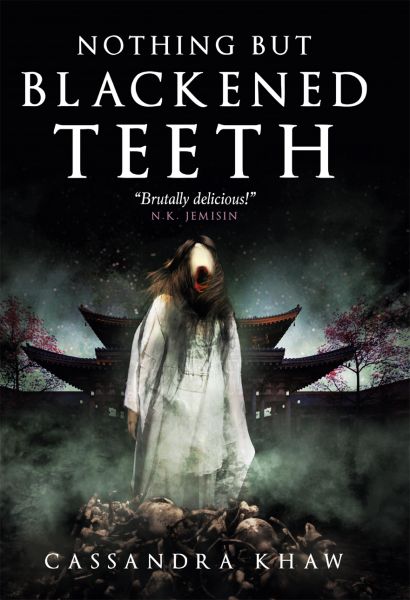 Cassandra Khaw: Nothing But Blackened Teeth
"The Ring" trifft "Spuk in Hill House" - japanische Sagen sind ja mitunter ohnehin schon sehr gruselig, aber die Stimmung in diesem Roman ist wirklich absolut fantastisch, trotz der Kürze.
Cat joins her old friends, who are in search of the perfect wedding venue, to spend the night in a Heian-era manor in Japan. Trapped in webs of love, responsibility and yesterdays, they walk into a haunted house with their hearts full of ghosts.
This mansion is long abandoned, but it is hungry for new guests, and welcomes them all – welcomes the demons inside them – because it is built on foundations of sacrifice and bone.
Their night of food, drinks, and games quickly spirals into a nightmare as the house draws them into its embrace. For lurking in the shadows is the ghost bride with a black smile and a hungry heart.
And she gets lonely down there in the dirt.
Erscheinungsdatum: 19.10.2021 - Verlag: Titan Books - Seitenzahl: 128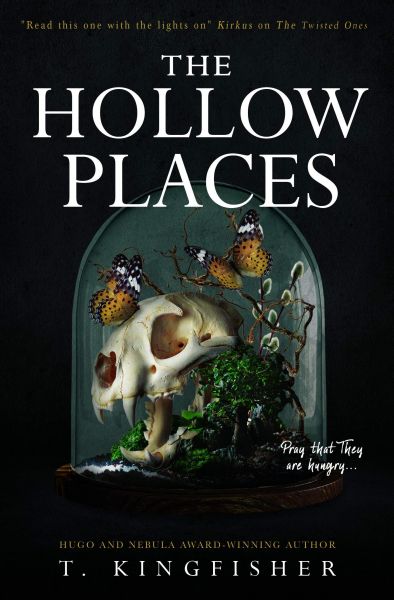 T. Kingfisher: The Hollow Places
Bevor ich dieses Buch gelesen habe, fand ich Otter immer unheimlich süß ... großartig. Der erste Roman, den ich von T.Kinggfisher gelesen habe und seitdem lese ich fast schon religiös jedes neue Buch.
Carrot has moved into the Wonder Museum - an eclectic collection of taxidermy, shrunken heads, and Mystery Junk owned by her Uncle Earl. For Carrot, it's not creepy at all: she grew up with it. What's creepy is the corridor behind one of the museum walls. There's just no space for a corridor there – or the concrete bunker, or the strange islands beyond the bunker's doors, or the unseen things in the willow trees.
Carrot has stumbled into a horrifying world, and They are watching her. Strewn among the islands are the remains of Their meals – and Their experiments. And even if she manages to make it home, she can't stop calling Them after her…
Erscheinungsdatum: 03.11.2020 - Verlag: Titan Books - Seitenzahl: 368
Caitlin Starling: The Death of Jane Lawrence
Klassischer Horror für Fans von Dracula und Co. - der Roman ist keine moderne Geistergeschichte aber auch kein Horror wie man ihn von heute kennt. "The Death of Jane Lawrence" gehört zum Genre des "gothic horror" und begeisterte mich mit einer bedrückenden Atmosphöre und sublimiertem Grauen. Manchmal lauert der Spuk in dir selbst.
Practical, unassuming Jane Shoringfield has done the calculations, and decided that the most secure path forward is this: a husband, in a marriage of convenience, who will allow her to remain independent and occupied with meaningful work. Her first choice, the dashing but reclusive doctor Augustine Lawrence, agrees to her proposal with only one condition: that she must never visit Lindridge Hall, his crumbling family manor outside of town.
Yet on their wedding night, an accident strands her at his door in a pitch-black rainstorm, and she finds him changed. Gone is the bold, courageous surgeon, and in his place is a terrified, paranoid man―one who cannot tell reality from nightmare, and fears Jane is an apparition, come to haunt him. By morning, Augustine is himself again, but Jane knows something is deeply wrong at Lindridge Hall, and with the man she has so hastily bound her safety to.
Erscheinungsdatum: 20.09.2022 - Verlag: Titan Books - Seitenzahl: 368
J. S. Barnes: The City of Dr Moreau
"Die Insel des Dr. Moreau" weitererzählt - als alternative Geschichte zu unserem heutigen Leben.
In H G Wells' The Island of Dr Moreau a shipwrecked traveller finds himself alone on an island ruled by a mad doctor and inhabited by creatures who are at once both beast and human. He escapes…but that is only the beginning of the story.
The City of Dr Moreau is a sprawling history of the islanders, and an alternative vision of our own times. Spanning more than a century, criss-crossing across numerous places and many lives, we witness the growth of Moreau's legacy, from gothic experiments to an event which changes the world. From the wharves of Victorian London to a boarding house with an inhuman resident to an assassin on a twentieth-century train ordered to kill the one man who knows the truth, we follow secret skirmishes and hidden plots which emerge, eventually and violently, into the open.
Erscheinungsdatum: 14.09.2021 - Verlag: Titan Books - Seitenzahl: 352
Andy Davidson: The Hollow Kind
Verfolgt einen die Geschichte tatsächlich noch nach dem Lesen, wie auf dem Klappentext angekündigt? Ja. Ja, das tut sie.
Nellie Gardner is looking for a way out of an abusive marriage when she learns that her long-lost grandfather, August Redfern, has willed her his turpentine estate. She throws everything she can think of in a bag and flees to Georgia with her eleven-year-old son, Max, in tow.
It turns out that the "estate" is a decrepit farmhouse on a thousand acres of old pine forest, but Nellie is thrilled about the chance for a fresh start for her and Max, and a chance for the happy home she never had. So it takes her a while to notice the strange scratching in the walls, the faint whispering at night, how the forest is eerily quiet. But Max sees what his mother can't: They're no safer here than they had been in South Carolina. In fact, things might even be worse. There's something wrong with Redfern Hill. Something lurks beneath the soil, ancient and hungry, with the power to corrupt hearts and destroy souls. It is the true legacy of Redfern Hill: a kingdom of grief and death, to which Nellie's own blood has granted her the key.
Erscheinungsdatum: 07.02.2023 - Verlag: Titan Books - Seitenzahl: 448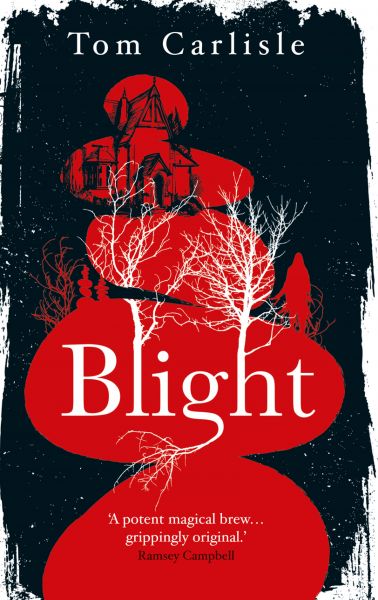 Atmosphärisch absolut gelungen: Für alle Fans von lokalen Legenden und Supernatural (die frühen Staffeln).
1897. James Harringley is summoned home from London to his rambling family mansion in the north of England. His father is sick, deranged, and James must return, confronting the horrors he tried to forget: the labyrinthine house, the madness and secrets which poison their bloodline and, most frightening of all, the spectre of the tall man – an eerie visage who promises to whisk children away and make them royalty in the land of Faery.
James returns to the house and finds his father and brother at war, and the nebulous substance of his childhood brought into unbearable relief. He remembers the whispers about the tall man. But can he trust his own memories? Then the groundskeeper Janey has had her baby kidnapped, one of many child disappearances connected with the house and the nearby village. There are those who blame the tall man, while others believe a more earthly culprit is responsible. James must sift through the ramblings of his father, the scepticism of his power-hungry brother and the uncertain fabric of his own memories to discover the truth.
Erscheinungsdatum: 10.10.2023 - Verlag: Titan Books - Seitenzahl: 336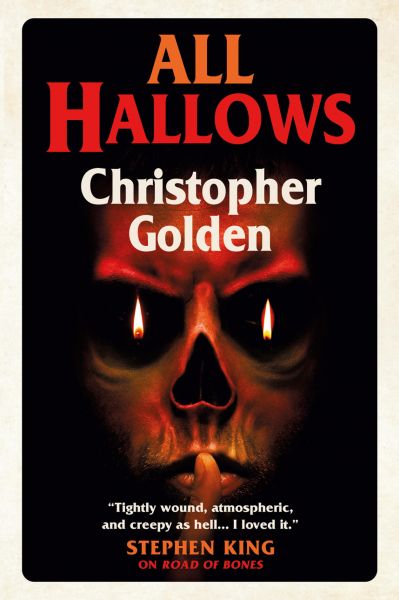 Christopher Golden: All Hallows
Christopher Golden hat es mal wieder geschafft: Absolut perfekt für Halloween - da überlegt man sich zweimal, ob man den Kindern die Tür öffnet.
It's Halloween night, 1984, in Coventry, Massachusetts, and two families are unravelling. The Barbosas have opened their annual Haunted Woods attraction in the forest behind their house—the house they're about to lose. The Sweeneys are fighting about alcoholism and infidelity on their front lawn. Up the street, high-school senior Vanessa Montez is about to have her secrets exposed during the violent end to the neighbourhood's block party, while down the street, the truth about Ruth and Zack Burgess turns out to be even more horrifying than the rumours ever were.
And all the while, mixed in with the trick-or-treaters of all ages, four children who do not belong are walking door to door, merging with the kids of Parmenter Road. Children in vintage costumes with faded, eerie makeup. Children who seem terrified, and who beg the neighbourhood kids to hide them away, to keep them safe from The Cunning Man. There's a small clearing in the woods now that was never there before, and a blackthorn tree that doesn't belong at all. These odd children claim that The Cunning Man is coming for them...and they want the local kids to protect them. But with families falling apart and the community splintered by bitterness, who will save the children of Parmenter Road?
Erscheinungsdatum: 19.09.2023 - Verlag: Titan Books - Seitenzahl: 336
Horror-Anthologien für kurzweilige Unterhaltung
Wer sich nicht auf einen ganzen Roman einlassen will, sondern eher Lust auf kleine Horror-Happen hat, kann ja Kurzgeschichten lesen!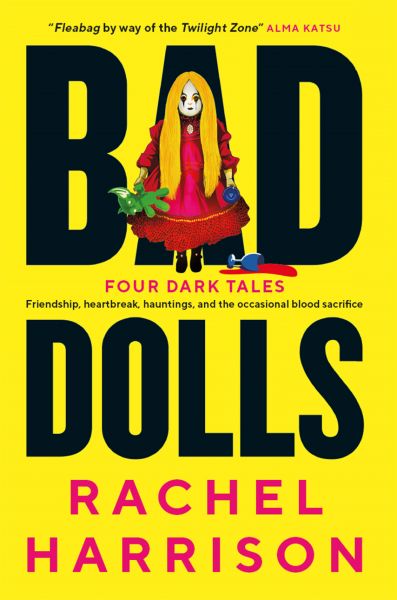 In Reply Hazy, Try Again, an indecisive young woman finds a mysterious Magic 8 Ball that might just have the answers she's been looking for...or might lead her down a path of self-destruction.
In Bachelorette, a bridesmaid attends her childhood best friend's bachelorette weekend only to discover the itinerary may demand more than she's willing to sacrifice.
In Goblin, an unusually brutal dieting app wreaks havoc on the life of a timid, insecure woman preparing to attend her ex's wedding.
In Bad Dolls, after the death of her younger sister, a wayward young woman comes into possession of a strange porcelain doll that could offer a connection to her lost sister, but could also just be pure evil.
These dark tales navigate the complications of modern life with humour, insight and the odd blood sacrifice…
Erscheinungsdatum: 05.09.2023 - Verlag: Anaconda Verlag - STitan Books - Seitenzahl: 208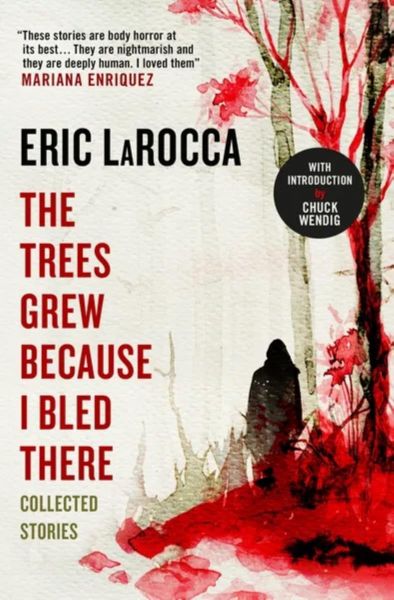 Eric LaRocca: The Trees Grew Because I Bled There
A beautifully crafted, devastating short fiction collection from the Bram-Stoker finalist and author of Things Have Gotten Worse Since We Last Spoke and Other Misfortunes. Includes an introduction from acclaimed bestselling author Chuck Wendig.
Eight stories of dark fiction from a master storyteller. Exploring the shadow side of love, these are tales of grief, obsession, control. Intricate examinations of trauma and tragedy in raw, poetic prose. A woman imagines horrific scenarios whilst caring for her infant niece; on-line posts chronicle a cancer diagnosis; a couple in the park with their small child encounter a stranger with horrific consequences; a toxic relationship reaches a terrifying resolution…
Erscheinungsdatum: 07.03.2023 - Verlag: Titan Books - Seitenzahl: 208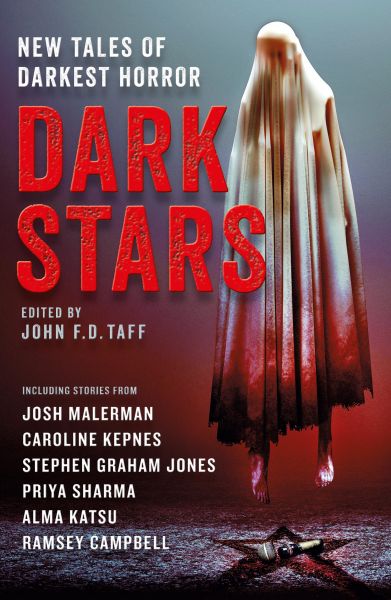 Caroline Kepnes u.a.: Dark Stars
Twelve chilling and thrilling stories from the darkest stars of modern horror including Josh Malerman, Caroline Kepnes, Stephen Graham Jones, Ramsay Campbell and more…
From the terrifying claustrophobia of a couple stuck together during lockdown to a desperate desire for attention during adolescence and the haunting vision of outliving your children, these stories are modern horror at its finest.
Created as an homage to the 1980 classic horror anthology, Dark Forces, edited by Kirby McCauley, this collection contains 12 original novelettes showcasing today's top horror talent. Dark Stars features all-new terrifying stories from award-winning authors and up-and-coming voices like Stephen Graham Jones, Priya Sharma, Usman T. Malik, and Alma Katsu, with seasoned author John F.D. Taff at the helm. An afterword from original Dark Forces contributor Ramsey Campbell is a poignant finale to this bone-chilling collection.
Enter if you dare, dear reader, and discover what horrors await in Dark Stars...gil. Aber als Noemí herausfindet, was auf High Place vor sich geht, ist es zu spät: Sie ist längst in einem Netz aus Gewalt und Wahnsinn gefangen …
Erscheinungsdatum: 22.03.2022 - Verlag: Titan Books - Seitenzahl: 432
Five terrifying collected horror novellas newly reissued from the "modern-day Algernon Blackwood
Skullbelly A private detective is hired after three teenagers disappear in a forest and uncovers a terrible local secret.
The Separation Marcus arrives in Germany to find his friend up-and-coming prizefighter Charlie in a deep depression. But soon Charlie's behavior grows increasingly bizarre. Is he suffering from a nervous breakdown, or are otherworldly forces at work?
The Stranger Set a rural Florida parking lot, David returns to his car to find a stranger sat behind the wheel. The doors are locked and there's a gun on the dashboard. And that was when then the insanity started…
After the Fade A girl walked into a small Annapolis tavern, collapsed and died. Something had latched itself to the base of her skull. And it didn't arrive alone. Now, the patrons of The Fulcrum are trapped, held prisoner within the tavern's walls by monstrous things, trying to find their way in.
Fierce A teenage girl and her mom are in a car accident with another vehicle on a remote country road in the middle of a nightmarish snowstorm, which soon devolves into gruesome madness.
Erscheinungsdatum: 18.07.2023 - Verlag: Titan Books - Seitenzahl: 384